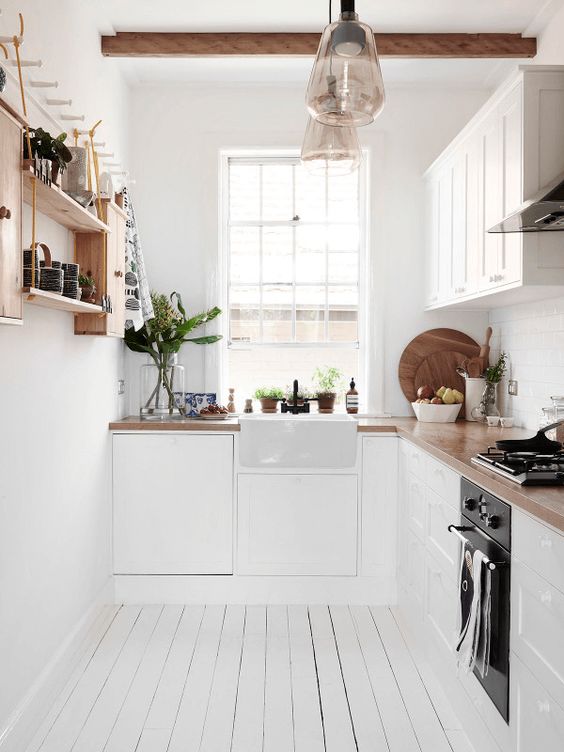 Big Ideas for a Small Kitchen
by Alannah Monks |
We all have big dreams and ideas for the forever house. You know the one; it's the self build in the country on an acre of land with the stables around the back for those horses that magically appear once the lifestyle sets in, or it's the big loft in the city with double height ceilings and loads of industrial features that you will carefully and lovingly restore to suit your new cool aesthetic. Wherever you may end up, you have the vision for that home stored away, a vision that you tend to with many a Pinterest board and window shopping through the listings.
But for now, you have your real home, and that deserves just as much time and attention.
Most of us don't have the sprawling space needed for our dream kitchen, but that's no reason for your kitchen not to be dreamy! Small spaces offer a character often lost on larger ones, what they might lack in storage they make up for in charm, and not to sound like a cliched realtor but there is a lot to be said for cosiness! So make the most of your little kitchen with these five big ideas:
Brighten Up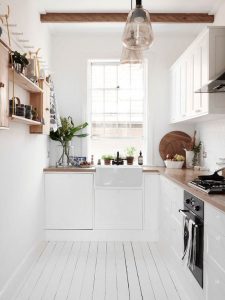 Nothing will amplify a small space like a bright colour, and whites are the ideal shades for a small kitchen. Bright white can be a bit daunting for some people, but you should stay brave and stick with it. Scandinavian living, famous for their minimal apartment style, favor white for it's airy and lifting properties. Warmer shades such as creams and greys will close in the space by adding more definition to the scene, stick to the cooler end of the bright spectrum and make sure to match the palette throughout the space (walls, ceiling and cabinets) for maximum effect.
If you really need a colour fix then add a touch to the bottom cabinets so that the lines are created below your eyeline, leaving the vertical height as open as possible, again try to stick to cooler tones to give the impression of space.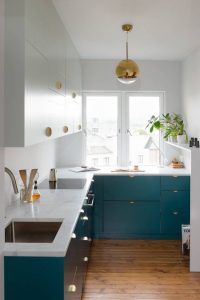 2. Reach for the Sky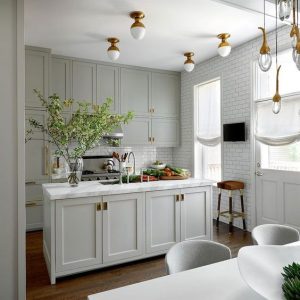 When dealing with a smaller space, vertical height is your friend. Taking your cabinets all the way to the ceiling will gain a surprising amount of space, and once you stick a door on it then have at it with your messiness my friend, but make sure to invest in a good footstool! Unfortunately, ceiling height cabinetry can be a bespoke project which can add cost to a renovation very quickly so doors may not always be an option. However there's nothing stopping you forgoing the cornice on your top cabinets and adding some open shelving.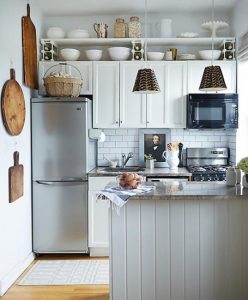 It might require you to be a little bit tidier with your choices, but who doesn't love a bit of shelf styling now and again? (As an aside, the chopping boards on the wall? Genius!)
3. What's on the Inside Counts
The most useful investments in any kitchen is the inserts you can have installed into your cabinets. Whether it is full larder drawers or a magic corner pull out, they will be the things that you will be thankful for day in, day out. A full length larder isn't always an option in a small kitchen but if you can fit it then absolutely utilise every inch of it with drawer inserts. You could fit the entire contents of your kitchen in a well organised larder, more accurately you could fit everything but the kitchen sink (I'm sorry, I had to.)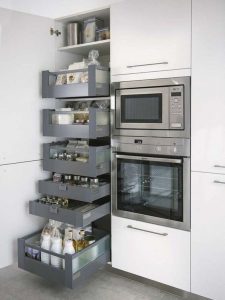 Some of the most unusual  inserts can be the best ones, like the slim little pull outs perfect to store spices and cooking utensils either side of the oven. Either way, a few well placed inserts will add whole new dimensions to your space while keeping counters free.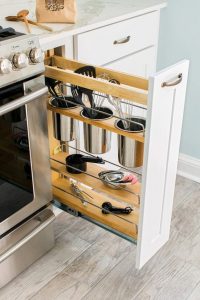 4. Style Like You Mean It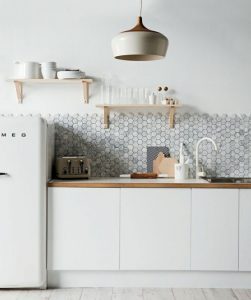 With a small space, less will always be more. Keep it hidden or don't have it at all! Minimalism should be your way of life with a small kitchen, stick to what you need in arms reach on the counter; if you're off carbs then put the toaster in the cupboard, don't drink tea then don't have a kettle, and for the love of all things great get rid of any double entendre sign with "Live, Laugh, Love" vibes. But I understand that no one lives in a showhouse, we all accumulate things and some things are worth showing off. Just be careful, selective, and cut throat. Nothing will magnify how small a space is like clutter, before adding something to your countertop ask yourself; do I really need this?
5. Back to Basics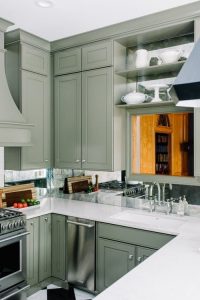 When we choose our backsplash we're usually thinking of ways to add interest to the space, this doesn't always mean pattern tile or colour, and in a tiny kitchen this should definitely not be the case. Think of looks that will open up the space and add to the brightness rather than detract and focus the eye on one point. Mirrors are a great solution to this predicament, ideally smoked or antiqued so you aren't heart broken trying to keep them clean. If mirrored splashbacks sound like too much hard work then stick to bright shades and glossy finishes that will catch the light, small herringbone tiles and classic subways are a perfect option.
---