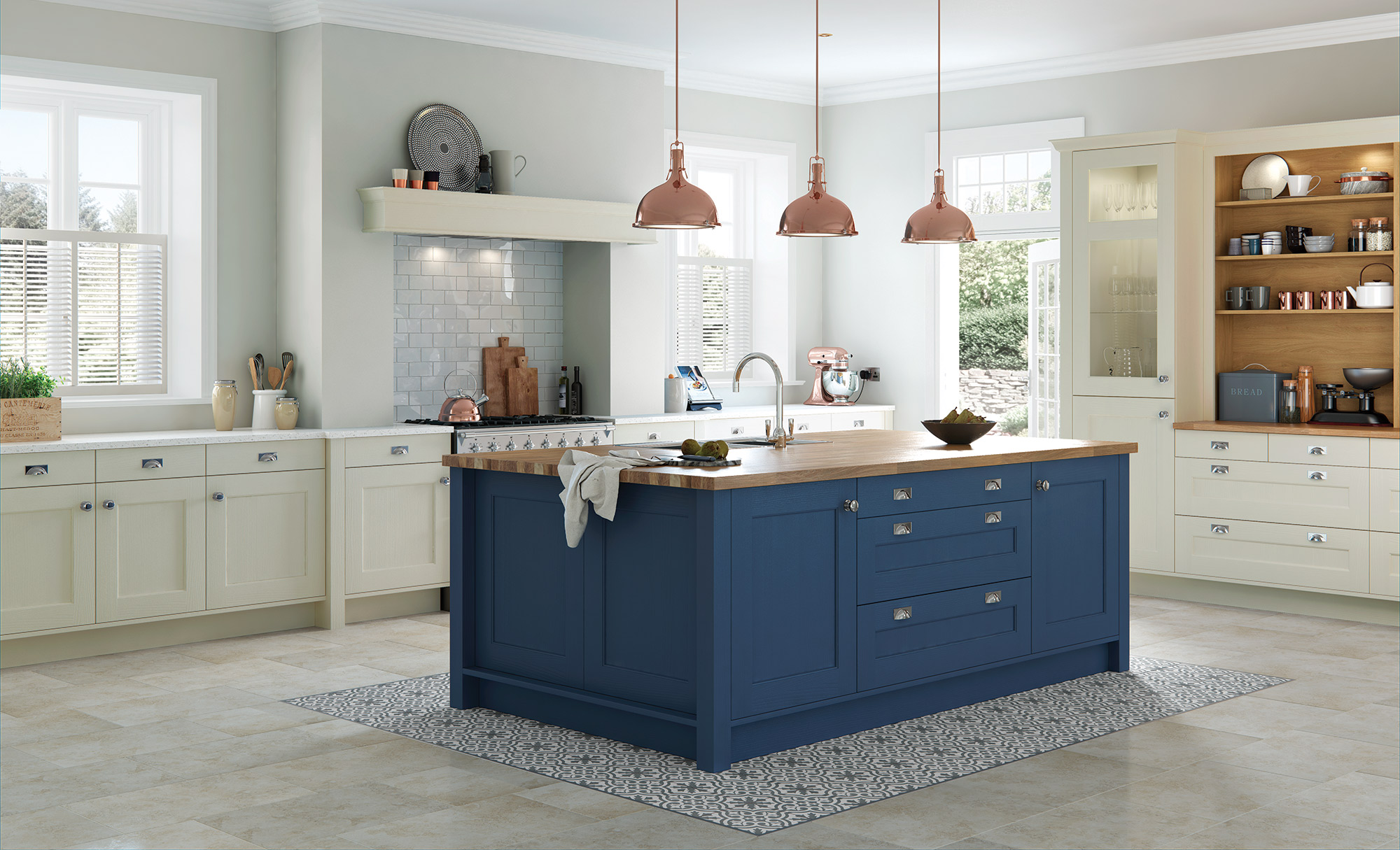 Ideas for Island Lighting
by Alannah Monks |
Islands are such a fantastic addition to any kitchen, in addition to adding storage and balance to a space they offer great leverage to flex your interior styling skills! The best way to make the most of dressing your island is to light is appropriately; in terms of the size, aesthetic and practicalities!
Size
The most important thing to consider with island lighting is size and scale. The general rule is that more is always more, but be weary; don't want what you can't fit! For an island 2m or less in length look at getting two pendants or one fitting with multiple lights. Long lantern style lights are perfect for this: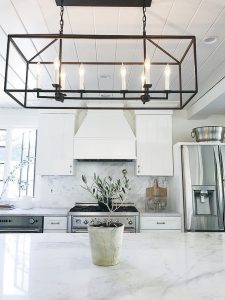 Alternatively, a single light fixture with multiple lights:
In terms of spacing Studio McGee have a wonderful infographic on the correct spacing for island lighting: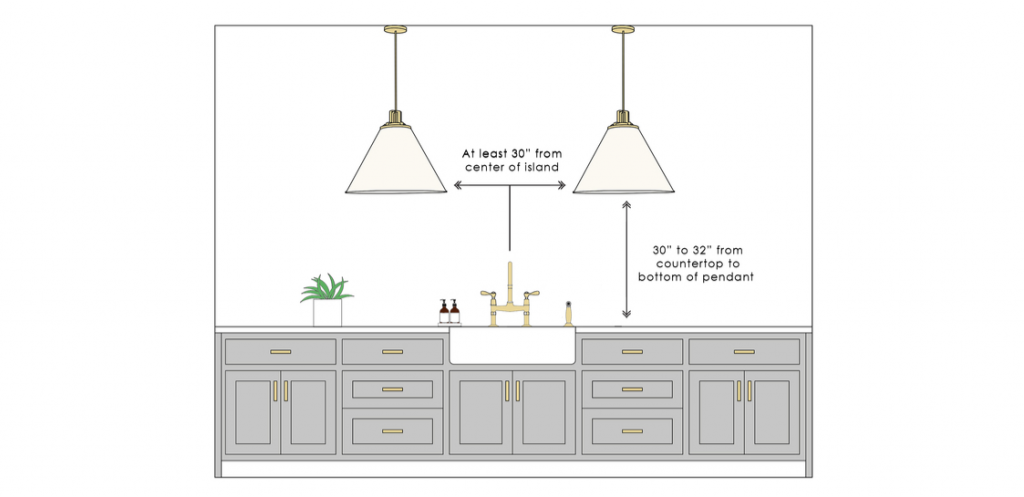 And for an island 2m or larger then three pendants is the ideal solution: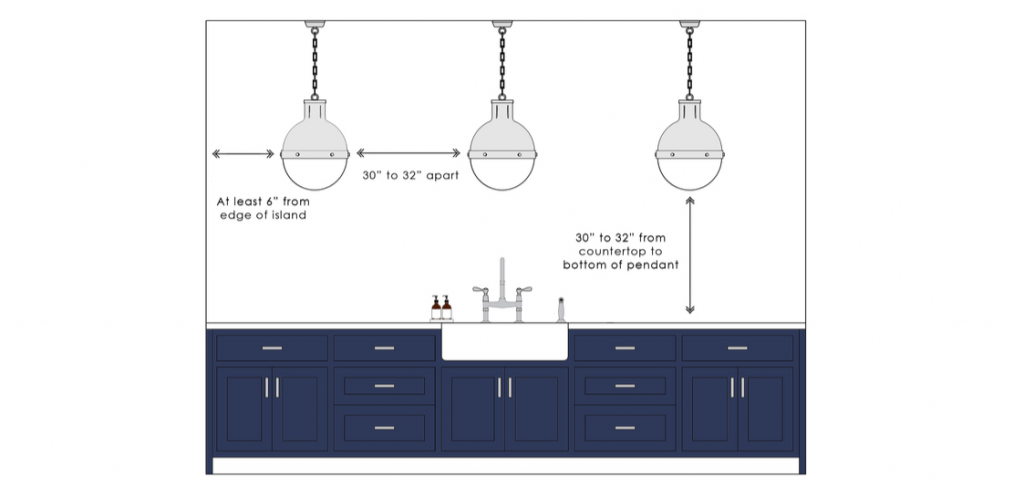 Aesthetic
When choosing your island lighting it is also important to consider the style of your kitchen. You would think this would go without saying but more often than not lighting is bought because the look of the light itself rather than how it actually fits in the space!
For modern kitchens, sleek designs and simplicity will compliment the space best. Simple hanging bars make a big impact for such neat pieces while also adhering to the minimal nature of modern kitchens: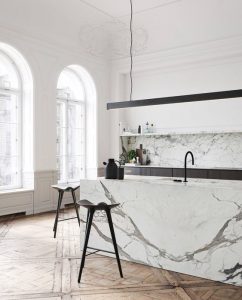 Alternatively add a splash of colour with your modern kitchen and opt for an accent metallic
If you're looking at more traditional style kitchens then you can look towards a greater selection of pendants; anything from fisherman style lighting to mid century drop lighting will suit your style. Narrowing down your choice may be the tricky part!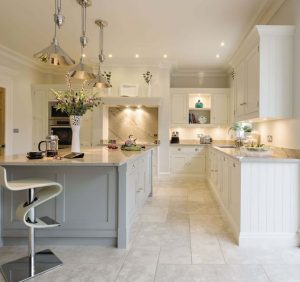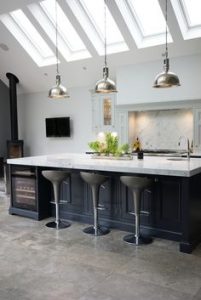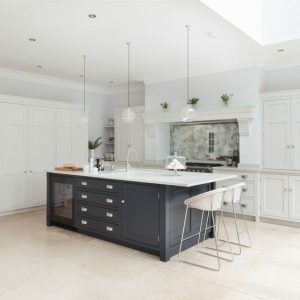 Practicalities
As with all good things in life; something that isn't practical won't work. So take time to consider what will work in your space. A few things to consider; are there any messy appliances going into your island, how much maintenance and cleaning are you willing to do, what sort of ceiling you have. All these things will contribute to what lighting you choose in the end!
Lanterns make beautiful pendants but a hob in the island might scupper those plans; do you really want to spend your time cleaning grease off the glass? Perhaps a matte finish metal would be a better idea. Similarly, what sort of extractor hood is going with this hob? If it is a low hanging extractor then perhaps forgoing pendants altogether would look best, avoid an over crowded ceiling space. Instead look into a ceiling integrated or island integrated extractor fan paired with your chosen pendants. Alternatively you could look into a decorative extractor that doubles up as decorative lighting!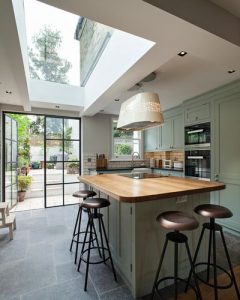 ---