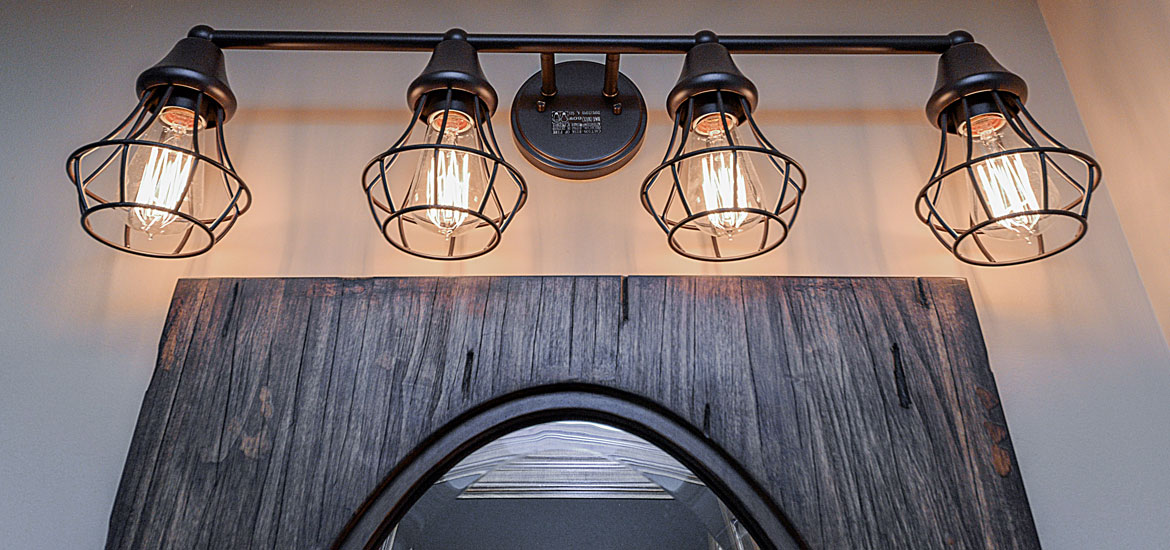 Kitchen Lighting Ideas
by Diarmuid |
For so many of us the kitchen is the hub of the home.  That's why it needs to be functional, comfortable and tied together with the correct lighting.  Here are some tips on how to light our kitchen.
The kitchen is so much more than an area for food prep, it's where everyone comes together as a family or when entertaining, so its important that the lighting is ambient, friendly and task oriented.  Avoid anything to bright, make sure all your lights are dimable so you can adjust them as required.
Placement:
There are five main things to think about;
Down Lights  (recessed lights)
Under cabinet lighting.
Over Cabinet lighting
Kicker board lighting
Hanging or pendant lights.
Down Lights:
Recessed lighting in the ceiling is the best and combats glare and shadows.  Recessed lights also work well in walkways and the space between the island and kitchen sink.  They can also be great over sinks.
Under Cabinet Lighting:
For task lighting at counter tops under-cabinet lighting works well. As they are mostly LED, they stay cooler than incandescents.  They are hidden from view and the light is directed down on to the counter.  They can also make a great style statement when left on at night with all the other lights turned off.
Over Cabinet Lighting:
This can add an extra layer of light to your kitchen.  Whether you are re-doing an existing kitchen or planning for a new new this is a lovely addition as it is a great way to brighten your kitchen.
Kicker board Lighting:
These are called plinth lights and are added to your kicker board.  They have a decorative effect as well as adding an element of safety.  They help modernize a kitchen and add an air of elegance to a kitchen.  These lights look great when they are the center of attention.
Pendants:
These are ideal over Islands and dining area to bring a warmer, more ambient light.  They allow you to bring some style and elegance to your kitchen and are visually interesting.  Pendants come in a variety of finishes from antique brass,chrome or plain black.
Chandeliers:
For a more glamorous feel a chandelier will make a bold statement without overwhelming the room.  Chandeliers can more expensive than many other lighting options but it's sleek, sophisticated design will bring instant elegance to your kitchen.
If you are lucky enough to have a very bright kitchen add accent lighting for interest.  A nice idea is to float shelves, add glass doors to cabinets and illuminate these to add a real sense of warmth and style to your kitchen.  At night turn off the main lights and just leave these ones on.  Let them shine!
Whats the biggest mistake when lighting your kitchen?
Too many lights hanging from the ceiling.  Design wise I would tend towards having only one hanging style feature in the kitchen, whether it's a pendant over the island or eating area or a pot rack with integral down lights over the cooking area or island.  To many hanging lights leave the ceiling looking cluttered especially in a smaller space.
Lighting Trends for 2018
Soft Gold:  This is the new popular finish.  Soft gold falls right within the spectrum of soft colors that work so well for contemporary decors for you to remodel.  This color blends well with any kids of decor from modern to farmhouse chic.  The fixtures come in a variety of styles and designs.  For overhead lighting look for fixtures that accentuate the gold.  Use soft gold to attract attention to a specific corner or area of your kitchen.
Retro and Industrial Style:  Industrial has always been about rustic finishes, neutral colors and an emphasis on metal.  Retro is making a comeback but in a different way.  We are seeing sleeker metals, richer and more varied tones and with finer details.  Use this style to create a unique twist.
Vintage Edison-Style Bulbs:  Home owners are loving the nostalgic design of these features.  The rounded cone shape make the bulbs especially homey and perfect for areas like the kitchen.
Mid Century modern and Art Deco:  It has been hard to come across fixtures set in these nostalgic early century styles.  But that is changing with more and more of these designs filling the market.  The popular Sputnik Chandelier springs to mind.  These styles emphasize clean lines, unique designs and a balance of form and art.
Fringing: Yes, dare I say it fringing is making a comeback. As 2018 calls for more blending of styles specifically the mix of minimal and maximal tendencies, fringing can feel very fresh and contemporary while also being decorative and frivolous.
So whatever your style be brave and take you time choosing your lighting.  Good lighting is so essential in the kitchen. Make a real design statement with your lighting. There is so much to choose from out there.
---