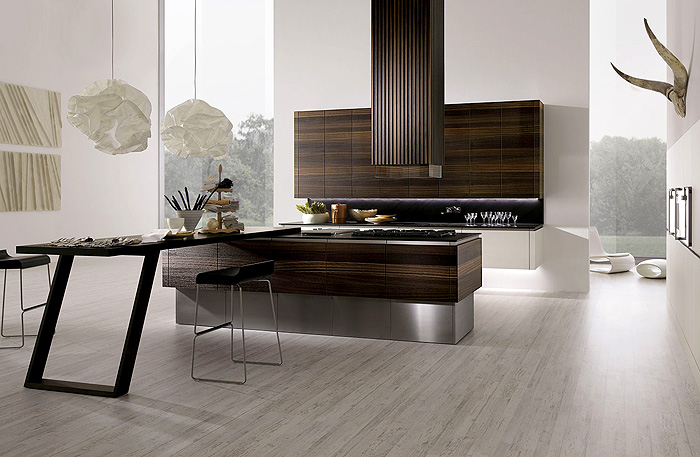 4 Designer Secrets That Make Open Kitchens Feel Cozy
by designminds |
1. ADD AN EYE-CATCHING "HEARTH."
With an open kitchen, the area above the stove is a great spot to splurge. Because it's relatively small, you won't need a ton of tile, so pick something you love, like a hand-painted one or one with an unusual finish. The remainder of the kitchen can be tiled in a less expensive complementary surface material.
2. CHOOSE IMPACTFUL LIGHTING.
Pendants over the counter or island are a beautiful place for your eye to linger when you're looking into the kitchen. They also act as a decoy, drawing your eye up and away from the clutter! Group three together, and don't be afraid to go big — a large pendant adds balance and drama. Think of it as jewelry for the room!
3. DON'T SKIP THE CONVERSATION SPACE.
"In a kitchen with a large open floor plan, valuable living space often goes unused. Turn it into a small sitting spot perfect for people to relax, have drinks, and talk while others are cooking."
4. PICK APPLIANCES THAT BLEND IN.
"If the thought of seeing a metal refrigerator or dishwasher from the living area feels jarring, choose panel-ready appliances in the same style and finish as your cabinets. This will make the room feel more appealing and less utilitarian. And put small appliances, like microwaves, below the counter facing away from the open area."
---